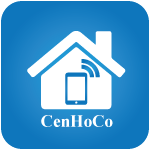 CenHoCo – Central Home Control
Your home at your fingertips!
CenHoCo is a mobile app which allows to display and control elements in automated buildings.
The Open Source system openHAB – open Home Automation Bus is used as backend for the integration of the various devices and protocols. CenHoCo connects to an openHAB server, displays the structures it offers in a simple and lucid way and enaböes the control or status modification of the offered elements.
CenHoCo was initialy developed for Windows and will be gradually published for other mobile platforms as well. First to follow are the app for the Windows Phone 8 and the pure web-app, the version for Android is planned afterwards, followed by the iOS variant.
As soon as all apps are published, the ensamble will be extended by the possibility to create own themes and therefor shape the layout and design across all displays to personal preferance.